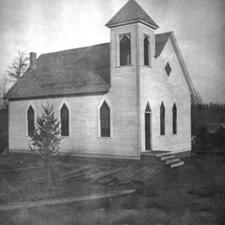 The Silverdale Congregation began in 1905 with Rev. R. W. Carr as pastor. The early church meetings were held in a local schoolhouse. In 1907 the church was organized into The Silverdale Methodist Episcopal Church (SMEC) under Rev. H. P. Waldron. In October of 1907 a church building was acquired for $450 borrowed from James Dingman and was located in what is now known as Old Town Silverdale. The church was simple but efficient with a dirt road out in front. In 1908, Rev. H. R. Merrill served and covered the circuit (multiple churches including the SMEC) on horse or walked…regardless of the weather. The first female pastor was, Rev. Mary McKee from 1930 to 1935. Rev. McKee made vast improvements with the old building including the construction of the parsonage next to the church and the construction of the classroom wing. The original steeple was remodeled and an entry porch was added in front of the church. In April of 1939 The Methodist Episcopal Church North, The Methodist Protestant Church, and The Methodist Episcopal Church South, united to become The Methodist Church.
The Silverdale Methodist Church continued to grow and by 1957, a site for a new parsonage and new church building was acquired by the congregation while Rev. J. Philip Porter was pastor. Construction began in March of 1960 under Rev. Paul G. Perkins. The cost of the building was $130,000 with $80,000 in debt for the new church building. The sanctuary was opened for worship in August of 1962 and seated 215 members. A third push for building funds began in January of 1964 for an extension that included the social hall, kitchen, crib nursery, nursery rooms and a kindergarten room. The new facility was consecrated by Bishop Everett W. Palmer on June 19th, 1964 with Rev. A. C. Sischmeier as the district superintendent. The total membership in 1964 was 225 members with the church school enrollment at 349! On a national scale in 1968 with Rev. William 'Bill' Ellington serving as pastor the Methodist Church and The Evangelical United Brethren Church came together to form The United Methodist Church, and hence our current name.
In 1973 with Rev. Larry Eddings serving as pastor, a cash donation of $23,000 from the Braendein's family enabled the church to build the Ridgetop parsonage which today is now Curve's. In 1978 the church building expanded to include the new Education Wing. In 1985 under Rev. Edsel White, the construction of the Great Hall (gym) was started.
Rev. Sherman Snow served as pastor from 1986-1989 followed by Rev. Wally Snook who served for 13 years from 1989 to 2002. In the fall of 2004 with Rev. Robert Rosas as pastor came the construction of