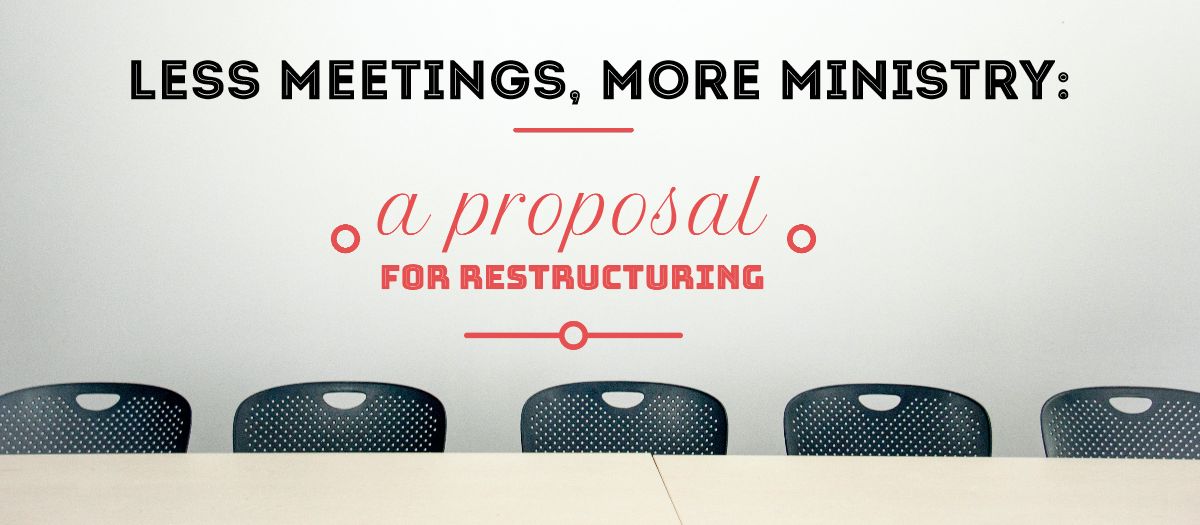 A Proposal for Restructuring
by Rev. John Weston on
September 29, 2021
Less Meetings, More Ministry: A Proposal for Restructuring

The Lay Leadership & Nominations Team, in consultation with Church Council, is proposing a change in our administrative structure effective January 1, 2021. Instead of operating with multiple standing committees, we would use the provision in par. 244.2 of the 2016 Discipline allowing for alternative arrangements. Par. 247.2 tells us that we may do this provided we are still making sure that our ministry is balanced and healthy, and provided our District Superintendent is consulted and gives approval.

We are recommending that SUMC adopt the following:

A Leadership Team composed of nine church members, and with the pastor as an ex-officio member, would meet monthly and oversee and coordinate the administration of the church. General responsibilities of the Finance Committee, Trustees, Staff-Parish Relations Committee (SPRC), and Church Council (which includes the chairs of each of the former committees) would be given to the Leadership Team. It is proposed that these Leadership Team meetings be public and open with all people present having a voice, with the exception of confidential matters currently handled by SPRC. After the main meeting, SPRC matters would be handled in a closed executive session. That means that if it's not sensitive personnel matters, anyone can come and offer input.

Why? With our reduction in membership over the past couple years due to multiple factors including denominational conflict, COVID-19, and a high number of deaths of core members, consolidating our administration is a practical and needed response. What's more, we believe this will make it easier to recruit people for ministry groups when they are not required to attend monthly meetings. People enjoy less talk and more action. What would you rather do: Go to a Bible study or go to an administrative meeting? Visit a friend in the hospital or go to an administrative meeting? Spend an evening with a neighbor you're thinking of inviting to church or go to an administrative meeting? This new structure will help all of us make the most of our valuable time. The Leadership Team will keep the administrative channels running so that we can all help out, reach out, and GET THINGS DONE!

So who does the work? We as a church together still do the work. The Leadership Team functions as oversight. Small groups still happen. Trustees work looking after our campus still happens. Hallowed Grounds Cafe still happens. Missions Team still happens. Hospitality still happens. Senior Saints still happens—on down the line. It means that each of those ministries is not saddled with meetings in addition to whatever it takes to make their actual ministry happen. It means that everyone currently on Trustees only meets as they need to. The Leadership Team delegates, facilitates, recruits, coordinates, and encourages people to get out and use their gifts for the glory of God! Don't worry about having a quorum, just GET IT DONE.

The first three team members will be familiar positions and are likely to be key in administrative structuring for the upcoming Global Methodist Church:

Leadership Team Chair
Lay Leader
Lay Delegate to Annual Conference

The next six focus on serving and supporting work teams including:

Administration (Human Resources, Finance, Facilities)
Operations (Worship Logistics, Safety, Technology)
Discipleship (Children, Youth, Young Adults, Adults, Cross-Age, etc.)
Congregational Care (Communication, Care Team, Senior Saints, Hospitality)
Outreach (Missions including International and Local including Live Nativity), Community Care including Food Bank, Clothing Closet, Hallowed Grounds Cafe, and the Severe Weather Shelter)
Lay Leadership & Nominations (Co-Chair) (officer recruitment and general recruitment and volunteer staffing needs for ministries present and future)

Trial Period It is the Lay Leadership & Nominations Team's recommendation that we run this new structure for two years. If we don't like it, we revert back. The goal is that all of us will have more time to do what we love—not to jump through institutional hoops. What's more, because representatives of major ministry areas like facilities, discipleship, human resources, and finance will all be present at each meeting, approval can be given for ministries more quickly at one meeting than having to go through multiple committees.

Town Hall Conversations After worship this Sunday, October 3rd and Sunday, October 10th, the Lay Leadership & Nominations Team (Nitz Arcega, Don Cosner, Patricia Greer, Tracy Martello, Donna Reed, Kim Sellick, and Pastor John) will be in Great Hall following worship ready to sit down and talk with ANYONE about their concerns. Think about it. Pray about it. Maybe you have some ideas to help tweak it and make it better! This is one concrete step to adapt to the unique challenges of our current season and to free up more time for the church to the be the church.



John Weston, Lay Leadership & Nominations Chair
back
by Jennifer Weston | SUMC Ministry Team
on March 17, 2021
Are you interested in the future of the church? By attending this conference, you get to "meet" the people who we could be connected to after the General Conference passes the "Protocol of Reconciliation and Grace through Separation and Restructuring". Silverdale UMC is a member of the Wesleyan Covenant Association. We have hosted 3...
Read More
---
---
---
---
---
---
---
---
---
---
---
---
---
---
---
---
---
---
---
---
---
---
---
---
---
---
---
---
---
---
next
goto page