The Aorta Blog
T
he Aorta | The largest artery in the body & primary blood vessel which carries oxygenated blood out of the heart to the rest of the body.
The Pastor | The main speaker in the body of Christ & the primary teacher who shines the light of Christ to the rest of the body.
Invite
by John Weston on
April 10, 2019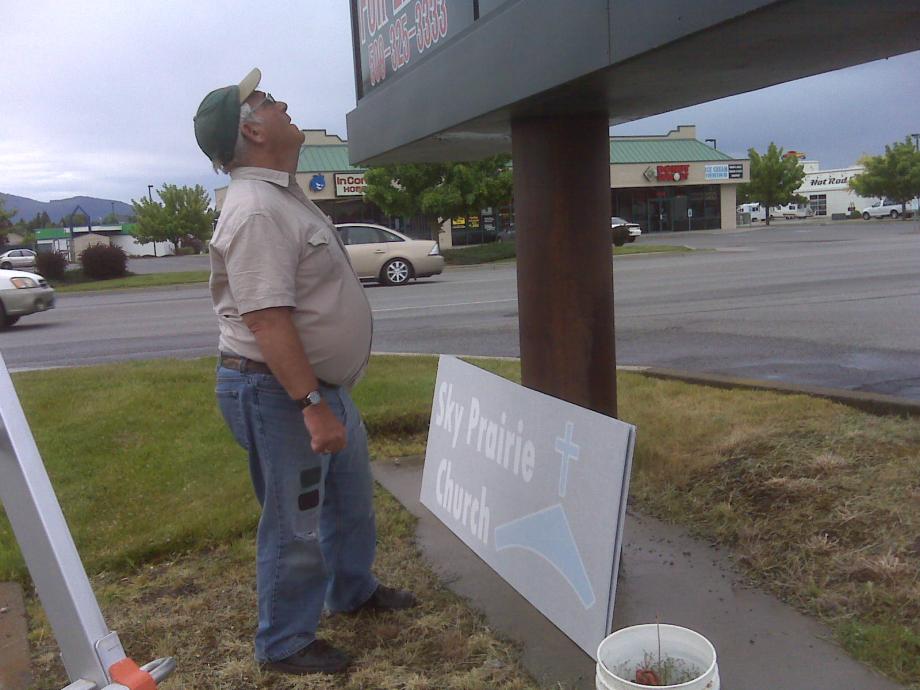 Tim Smith eyeing a street sign before we put in our church's new tile in 2014.

Invite
by John Weston
Never underestimate the power of a holiday for inviting people to church. You know and I know that as Christians EVERY Sunday is a celebration of Jesus' resurrection. But for people outside the church, Easter is one of the few times a year they feel like they can actually show up without having to have an excuse. Some of our guests will come because it's the seasonal thing to do. And some will come because they feel empty and they don't know what to do, but SUMC is the church where their cousin's memorial service was held, or it's the church that seems to help people in need, or they went to Vacation Bible School there seventeen years ago, and even though they haven't been back since, there's just Something that seems to be drawing them back. God brings people to church ultimately. But we can play a big role in helping that happen. We can invite.
Jesus was great at inviting people to events that would bring them closer to him. In fact, Jesus wasn't above inviting himself over to people's houses. Remember Zacchaeus, the hated Jewish tax collector, working for the Romans and getting rich off his own neighbors? Zacchaeus was the kind of guy who could get blood from a stone. Audit was his middle name. But when Jesus sets his sites on this hated public figure who had lowered himself by climbing a tree to get a better look at Jesus and his team, look what happens:
Luke 19:5 (NOG) When Yeshua came to the tree, he looked up and said, "Zacchaeus, come down! I must stay at your house today."
Crazy, right? Zacchaeus was obviously curious, but wasn't Jesus being over-the-top? Nope. Nailed it. Zacchaeus takes Jesus' self-invitation to Zacchaeus' house and turns it into a ministry event at the drop of a hat—invites all of his tax collector staff and buddies. And it changes his life forever.
Years ago I was spending a lot of time in cafes and coffee shops doing church work so that I would have the opportunity to meet people while doing my "office hours." The Corner Cafe in Post Falls was a favorite breakfast spot, and I went in there about 7:00 to have a bite to eat and work for a couple hours as long as there was room for me. There was a group of old-timers sitting at the front counter. I perched on a stool on end of the counter and started off by asking questions like, "What's your favorite item on the menu?" and "So how long have you been coming to the Corner Cafe?" It didn't totally work the way I thought. They gleefully let me have it by poking fun at me and quickly discovered I was a preacher. There were jokes and questions and comments. Tim was a part of the group. He was more quiet, but listening to all the banter and occasionally jumping in. I learned that he liked motorcycles and rode when the weather was nice. When he got up to leave I shook hands and gave him a church flyer. When we started meeting weekly for worship, Tim was there. And he stuck. He stayed with us through a movie theater, our own commercial space we had to remodel, a hotel, and another commercial space remodel. Tim was quiet, but kind. Grew up on a farm in South Dakota. Our church became his family. God rekindled faith from going to a Methodist church growing up. And over the next several years, more than a couple of the people I met at the Corner Cafe came and visited our church more than once because Tim had invited them.
Whether the person you want to invite for Easter is tough and complicated like Zacchaeus or quiet and unassuming like Tim, ask the Holy Spirit to give you the timing and the words. Then go for it. You might even invite yourself over for dinner.
back