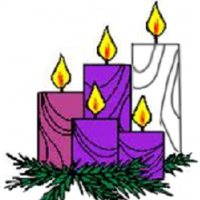 Advent Christmas - Christ
by Kishwaukee Bible Church | December 24, 2018
CHRIST
Pray that God will give you greater insight into what it means that
Jesus came to earth, and your heart will rejoice in the gift of our Messiah
this Christmas.
Read this scripture passage: Matthew 1:18–25
Consider this: There was a time when the Messiah was still a hope, a
prayer, or maybe even a dream. Today we think of Jesus coming to Earth
as an historic event. Try to put yourself in the place of ancient Israel,
desperately waiting for their Savior to appear. Every last hope of God's
promises hangs on his arrival. How eagerly we would wait!
Reflection questions about our Scripture passage:
1. What details are important to Matthew (and so, to God) as the New
Testament opens with this description of Jesus' Advent?
2. This passage includes the Holy Spirit (i.e, God), an angel, and a
prophecy. How do each of these underscore the importance of this
moment in time?
3. What assurances or promises are found—or fulfilled—in this
passage?
4. How would this passage be different if Jesus had not come?
Pray:
• for God to impress upon you the magnitude of Jesus' Advent
• for the Holy Spirit's help to worship in response to the great gift of
the Messiah
• for boldness and opportunity to share the Hope, Love, Joy, and Peace
of Jesus with someone you know
Additional Scriptures:
Feel free to use the same questions for reflection.
• Matthew 1:1–2:23
• Luke 1:1–2:52
(Read through the full account of Jesus' Advent in Matthew 1 & 2
and Luke 1 & 2)