WELCOME TO WORSHIP!
We hope you'll join us for church on Sundays in the Great Hall. Call to Worship begins at 10:30am and we continue to sing, pray, and listen to the Word of God Spoken.

Nursery is available for children aged 0 to 5 with our caring Nursery Coordinator to learn about the love of Jesus.
Come as you are. If you cannot join us in person, you can connect remotely from where you are on your smart phone, tablet, or computer. Sometimes technical difficulties occur, we will try and fix and get back online. If you are listening from Zoom and get disconnection, we apologize.

The Sunday worship services will be posted to Youtube the Monday after worship.

Check out the bulletin below for information about today's service.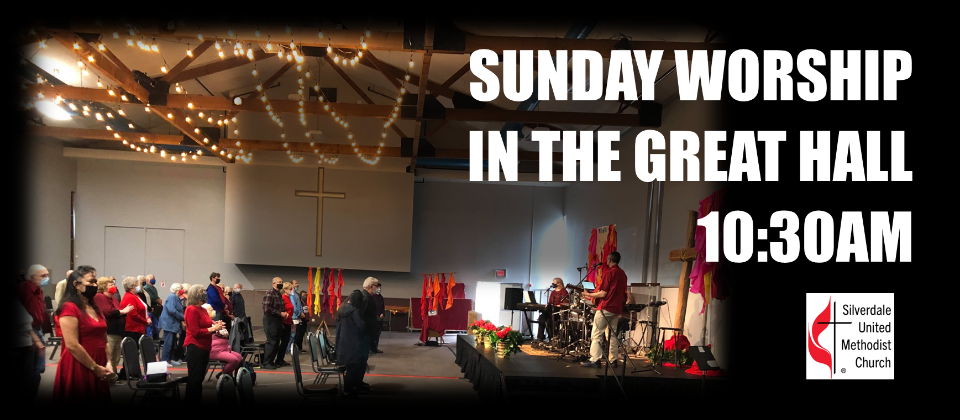 WE ARE GLAD YOU JOINED US!

ONLINE | Connect to the livestream via Zoom, watch the service on Facebook, or on scroll down to the Facebook Viewer below.

ZOOM CALL ONLY | Dial: 1 253 215 8782 Meeting ID: 916 5228 1153

REMINDERS | Enter on the east-side through the green doors. To allow maximum room capacity with adequate ventilation in compliance with the safety guidelines, we will have the doors propped open and the fans blowing. Dress layered accordingly to our weather forecast. We appreciate your help following our house rules; wearing a mask is optional and maintain the recommended space after greeting and seating. And please, if you don't feel good - stay home. See you soon!

SERMON ARCHIVES | www.youtube.com | facebook.com/SilverdaleChurch/live/ | Listen to Pre-Covid Audio HERE

WE WANT TO HEAR FROM YOU!
Submit a Connect Card | Give Today | Subscribe to the Email Newsletter